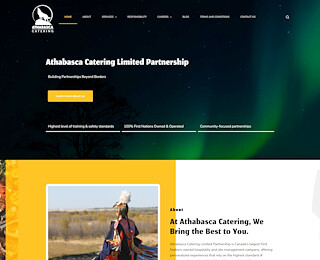 Navigating the culinary landscape in the realm of hospitality and site management can be complex, but a premier food service provider can make all the difference. With a focus on providing fresh, quality ingredients and personalized culinary experiences, Athabasca Catering Limited Partnership stands out amongst food service providers in Canada.
Athabasca Catering, proudly First Nations-owned and operated, brings to the table not just food, but an amalgamation of culture, quality, and care that sets it apart in the industry.
Cultural Roots in Modern Culinary Artistry:
Our status as Canada's largest First Nations-owned hospitality and site management company isn't just a title; it's a reflection of the rich cultural heritage that informs our approach to food services. Our Indigenous roots infuse every culinary decision, resulting in menus that are unique, diverse, and steeped in tradition.
This unique infusion of cultural richness in our modern culinary services allows us to cater to a wide variety of tastes while staying true to our roots.
Beyond the Menu – A Focus on Nutrition and Health:
At Athabasca Catering, our approach to food service extends beyond just serving meals. We understand the profound impact of nutrition on health and wellness, especially for those in remote locations or high-stress work environments. Our team of culinary professionals prioritizes nutritional balance, creating meals that are as nourishing as they are delicious.
To ensure this, we:
Source Quality Ingredients: We hand-select our ingredients, prioritizing fresh, locally sourced produce and high-quality proteins to ensure every meal is nutrient-rich.
Emphasize Balanced Menus: Our menus feature a diverse mix of fruits, vegetables, lean proteins, and whole grains, striking a balance between nutrition and satisfaction.
Cater to Dietary Needs: Whether it's gluten-free, vegan, or low-sodium meals, we adapt our menus to accommodate special dietary requirements.
Promote Hydration: Alongside our meals, we offer a range of healthy beverages to keep staff hydrated and healthy.
Customized Culinary Experiences:
Every client is unique, and so are their culinary preferences. We pride ourselves on offering personalized experiences, creating menus and meals tailored to the specific needs and tastes of our clients and their teams.
Whether it's special dietary requirements, specific meal times, or unique food preferences, we're committed to accommodating it all, without compromising on quality or taste.
Our custom culinary experiences include:
Special Dietary Menus: We can cater to a range of dietary needs, including vegetarian, vegan, gluten-free, or allergy-specific menus.
Cultural Cuisine Days: We celebrate the diversity of our clients with themed cuisine days, offering meals inspired by various global cuisines.
Event Catering: From corporate functions to special celebrations, we create bespoke menus to make your event memorable.
Snacks and To-Go Options: Understanding the needs of busy professionals, we provide healthy snacks and to-go options for convenience.
Responsible and Sustainable Practices:
As a First Nations-owned business, respect for the land and its resources is at the heart of our operations. We're committed to sustainable practices in all aspects of our food service, from sourcing locally wherever possible to minimizing waste.
This commitment to environmental stewardship not only benefits our planet but also enhances the freshness and quality of our food.
Make Athabasca Catering Your Trusted Food Service Providers
Choosing Athabasca Catering as your food service provider means partnering with a company that values quality, cultural diversity, health, and sustainability. With our client-centred approach and a team of culinary professionals ready to serve, we aim to elevate every meal into a memorable culinary experience. Let's get in touch and discuss how we can serve your food service needs with distinction.